An easy breakfast for traveling is to make up some bags of oatmeal at home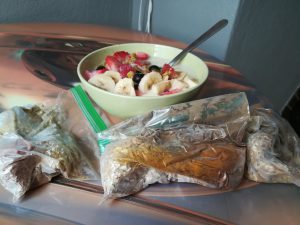 and bring them with you. I made one of these bags for each day we'd be gone. Each bag includes:
Oatmeal
Flaxseed
Tumeric
Amla
Pepper
Cinnamon
Matcha green tea
When we arrived in Washington DC we walked to Whole Foods and bought blueberries, strawberries, bananas and almond milk. Put a bag on the mix in a bowl. We are staying at an AirBNB so they have dishes. At a hotel you can probably get a bowl on the lobby or a disposable at the store. Heat up water and pour over the mic. I like to add the blueberries beforehand. After five minutes add the strawberries, banana and almond milk.