Once you have made the decision to start the journey towards wellness with a Whole Food Plant Based lifestyle you might be asking yourself "how do I actually do this?" What am I going to eat once I cut meat, dairy, cheese, oil, etc out of my diet? In Part 2 of his book How Not to Die, Dr. Michael Greger suggests that families typically eat from a rotation of nine meals (for dinner).  He then suggests that to come up with those nine meals to select three that you eat that are already plant based, three that you can make plant base and three  new meals. He indicates that this is derived from The Healthy Living guide published by Kaiser Permanente and provided to the community for free. You can get the 32 page guide online.
Mande has always loved to experiment with new recipes that she found online. Even before we were WFPB she would try at least one new recipe for an entree or side every week. So when we went WFPB it was natural for her to just find new things to try in cookbooks and online and try them. If we liked them they get added to a rotation.
What we encourage the community to do is to think of three meals in each of the first two categories and post them as comments to this article. Then for category three we encourage you to try any of the nine meals that Mande and Carl have listed here or any that others have posted in comments. If you need help adapting your favorite recipe to WFPB just ask, and Mande will be glad to assist you.
Using page 13 of the Kaiser Permanente Healthy Living  guide below our our nine go to recipes.
Step One – Three meals that are already plant based.

Spaghetti with red sauce. Add chopped veggies if you like including zucchini, squash, broccoli, etc.
Salad & Tomato Soup
Veggie Chili
Step Two – Three meals that can be made plant based.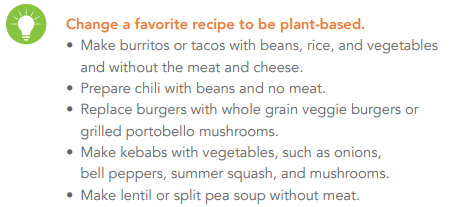 Broccoli Cheese Soup
Burgers & Onion Rings
Tacos – with Quinoa taco meat
Step Three – three new meals
Now this is where it really gets fun to try new things.  The Kaiser Permanente guide lists some sample meal plans starting on Page 22. They also list some websites with additional recipie ideas on page 28.

Cauliflower crust veggie pizza
Meera Salad
Buffalo Cauliflower & Onion Rings
Now it's your turn. What are your three plant based meals you already eat? What are three meals you can make plant based? What three meals from the nine we list above would you like to try? Comment below and let us know.